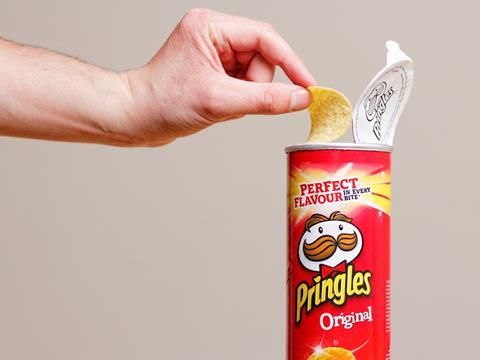 A new, 90% paper tube has been developed for Pringles crisps in a collaboration between Fost Plus and the Belgian Engineering and R&D teams at Kellogg's, aiming for complete recyclability.
The steel base built into previous tubes has been replaced with a paper fibre alternative, which is sealed to the bottom of the pack. As such, the tube is apparently compatible with paper and cardboard recycling once the plastic cover has been removed; the cover can be recycled in the PMD bag in turn.
Furthermore, the pack claims to be completely airtight and offer a 15-month shelf life for the crisps prior to opening.
New machinery will be installed on all production lines for Pringles tubes in Mechelen, Belgium. These are expected to produce over one billion sealed Pringles tubes every year, with the technology expected to roll out to all Pringles production lines in Europe in the coming years – requiring an investment of over €100 million, according to the company.
"As part of our ESG Better Days programme, we have worked hard to improve our environmental footprint," explains Johan Van Batenburg, director of the Pringles factory in Mechelen. "The Pringles recyclable tube is another step towards sustainable packaging. We learned from the test carried out in 2020 that consumers approve of the new paper tube and we are therefore eager to introduce it to the Belgian market."
Wim Geens, managing director of Fost Plus, adds: "The old tube was made of different materials (a paper tube with a metal bottom) that could not be separated by the consumer, making the recycling process difficult. The new packaging solves this problem.
"We are proud to be able to support and advise companies in the development of more recyclable packaging. It is important to mention that paper-cardboard is one of the most recycled packaging materials in Belgium: 92% of the packaging in paper-cardboard was recycled in 2021 alone."
PepsiCo previously trialled paper-based outer packaging for the Sea Salt and Cheese and Onion flavours of its Walkers Baked six-pack multipacks – a move aiming to phase out plastic and increase recycling rates.
This was followed by a trial for 'bagless' multipack for the Walkers Snack A Jacks range. The recyclable, tape-like strip implemented into the pack hopes to reduce plastic use by 86% compared to the previous outer packaging design.
Meanwhile, Burts Snacks has implemented a high-speed seasoning and packaging system from TNA in an effort to optimise throughput and flexibility in its crisps packaging process.
If you liked this article, you might also enjoy:
The Lidl approach to packaging sustainability
How did Brazil achieve its 100% aluminium can recycling rate – and can it be replicated in the EU?
Experts have their say on the EU's Packaging and Packaging Waste Directive revisions
A deep dive into the most important packaging sustainability trends and solutions