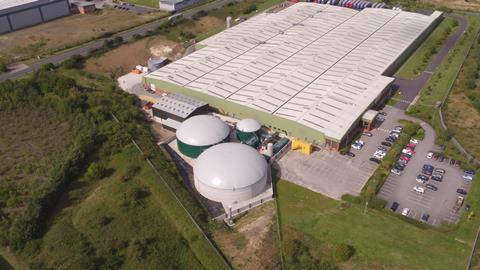 Next in our Finalist Interview series for the Sustainability Awards is CorrBoard UK with 'anaerobic digestion plant' CorrBoard Bioenergy. We spoke to CorrBoard UK about this entry, which has been nominated in the commercialized Best Practice category.
You're a finalist in the Sustainability Awards 2023. Congratulations! To start off, could you summarise your entry, in less than 50 words?
Thanks to an intrinsic partnership with CorrBoard Bioenergy, CorrBoard UK has supported an investment of £7.2m into the anaerobic digestion facility. As a result, the manufacturing facility has access to green energy (electricity) to power its processes. This is the start of a longer sustainability journey for the business.
Why do you think the judges were impressed with your entry? Tell us about what is innovative about your project and/or about its impact on packaging sustainability.
CorrBoard BioEnergy is a world first in sheet feeding. Requiring such a significant investment, the business had to commit to approaching its environmental impact in a completely new and innovative way.
While many companies rely on solar power and wind energy, the anaerobic digestion facility focuses on delivering a truly circular economy. It is far from a quick fix, however both companies believe in the long-term ambition to achieve a net zero position.
In addition to supporting its own environmental journey, CorrBoard is also becoming a champion for others, sharing its insight and the challenges it has faced. Supporting this, it hosts visits to the anaerobic digestion facility so that other businesses can see how the process works in practice.
How has your innovation/initiative been received?
The investment in CorrBoard Bioenergy to deliver the anaerobic digestion facility has surpassed all objectives. Whilst the priority was to provide CorrBoard UK with a sustainable electricity source, the linking between food waste and corrugated packaging has facilitated the ability to link box contracts with food waste disposal contracts to achieve a circular economy.
This provides significant benefits for corrugated box manufacturers and users in the food and beverage sectors who are under constant pressure from the large retailers to improve their sustainability.
CorrBoard Bioenergy is now a practical example of what can be achieved with the commitment and investment of partner organisations.
You're shortlisted for the Best Practice category. What do you see as the key demands and challenges in relation to driving sustainability impacts at scale?
Investment remains the biggest challenge when it comes to driving sustainable impact at scale. While continuing to manage a commercial operation, it can be difficult for businesses to prioritise the allocation of funds to sustainable projects.
In the case of CorrBoard, the company requires significant investment to develop the supply of gas as well as electricity from CorrBoard Bioenergy. With a reduction in third party investment opportunities, such as grants or support from local government or LEPs, companies are left with few options other than to extend the planning and delivery of these projects.
The plan remains to evolve the anaerobic digestion facility and to reduce the environmental impact that CorrBoard UK has in its pursuit of achieving net zero.
The winners of the Sustainability Awards 2023 will be announced at the Sustainable Packaging Summit, which takes place in Amsterdam on 14-15 November. The Summit mobilizes leaders of the FMCG value chain, policymakers, NGOs, recyclers and investors to collaborate, remove barriers and identify opportunities on the road to sustainable transformation.
To learn more or register, visit https://www.packagingsummit.earth/amsterdam2023/.