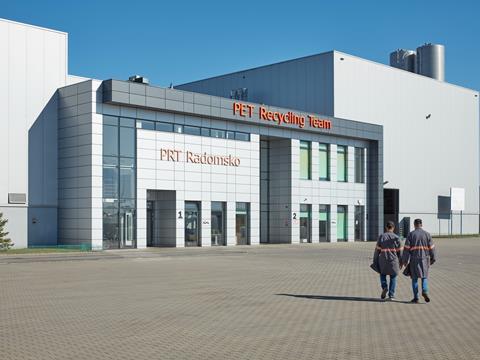 ALPLA is investing around €8 million into a third extrusion line to expand its recycling plant in Radomsko, hoping to increase its annual production capacity of food-grade rPET by 24,000 tonnes.
The investment expects to increase the production capacity of the PET Recycling Team (PRT) Radomsko from 30,000 tonnes to 54,000 tonnes of food-grade rPET pellets, making the facility one of the largest recycling plants of its kind in Europe.
The company hopes that the expansion will set the groundwork for meeting EU requirements, such as implementing at least 25% post-consumer recycled material into all PET beverage bottles by 2025, in regional markets. It is also set to create twelve additional jobs and expand the team to over 100 employees.
"ALPLA stands for sustainable packaging solutions made of plastic," explains Dietmar Marin, managing director Recycling Division. "As a system provider, we develop products optimised for recycling, process high proportions of recyclate in production and take care of efficient recycling.
"With our global focus on recycling and our commitment in Central and Eastern Europe, we make a significant contribution to the regional bottle-to-bottle cycle."
"We actively work with customers to create closed loops for PET packaging and accompany them on their sustainability path. To this end, we are taking care of meeting tomorrow's needs today and already have some excellent examples in reality," continues Mariusz Musiał, ALPLA country manager Poland.
"With this investment we are targeting the Polish market in particular and ensuring that sufficient rPET is available to our customers", adds Beata Szynkiewicz-Razik, commercial director of PRT Radomsko.
In Târgu Mureș, Romania, ALPLA entered a joint venture with United Polymer Trading and Ecohelp to open its first PET recycling plant in the country – a move set to produce around 18,000 tonnes of recycled material from household waste every year. Its first extrusion line entered operation in March.
The company is also establishing a recycling plant in Ballito, South Africa. With an intended output of 35,000 tonnes of rPET flakes and pellets every year, it is set to help ALPLA enter the African recycling market and contribute towards circularity.
In an effort to recycle around 40,000 tons of plastic packaging every year, Fost Plus has signed a contract with Morssinkhof Plastics Belgium to build a new recycling plant and convert polypropylene, polyethylene, and HDPE packaging waste into raw materials.
If you liked this article, you might also enjoy:
The Lidl approach to packaging sustainability
How did Brazil achieve its 100% aluminium can recycling rate – and can it be replicated in the EU?
Experts have their say on the EU's Packaging and Packaging Waste Directive revisions
A deep dive into the most important packaging sustainability trends and solutions