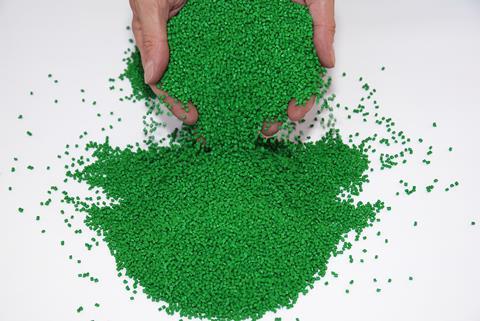 Next in our Finalist Interview series for the Sustainability Awards is The National University of Malaysia (UKM) and Tunku Abdul Rahman University of Management and Technology (TARUMT) with a starch-based biopolymer film for application as active and intelligent food packaging. We spoke to Professor Ishak Ahmad and Ms. Chia Min Rui from UKM about this entry, which has been nominated in the pre-commercialized Active and Intelligent category.
You're a finalist in the Sustainability Awards 2023. Congratulations! To start off, could you summarise your entry, in less than 50 words?
In our research, starch-polyaniline biopolymer film reinforced with cellulose nanocrystals (CNC) extracted from agricultural wastes is synthesised and applied as active and intelligent food packaging. This product is able to reduce the plastic pollution arising from food packaging, minimise food wastage and transform agricultural wastes into wealth.
Why do you think the judges were impressed with your entry? Tell us about what is innovative about your project and/or about its impact on packaging sustainability.
Starch-polyaniline-cellulose nanocrystal film is biodegradable and is able to indicate food spoilage simply through the change of colour from green to blue that can be easily differentiated by the naked eye. By developing starch-polyaniline-CNC biopolymer film in full scale, the plastic wastes arising from food packaging can be diminished to a great extent.
This effort of replacing petroleum-based food packaging conserves the marine ecosystem from white pollution and reduces the depletion of fossil fuel. Furthermore, the polymer film may act as an antioxidant and a real time food freshness indicator simultaneously, reducing food wastage. It is important to avoid the food produced from being wasted as a proactive act in securing national food stock, especially after experiencing the COVID-19 pandemic and global political conflicts that vigorously disrupt food supply chains.
When and how do you intend to launch/commercialize this innovation?
We target the branded suppliers of the gourmet market to purchase this packaging film. We ensure that our product is able to create business value opportunities for the customers through improved inventory management, product integrity and user experience. Currently, we are working on establishing more collaborations among the industrial stakeholders, incubation centre and investment company to ensure smooth progress of the product development.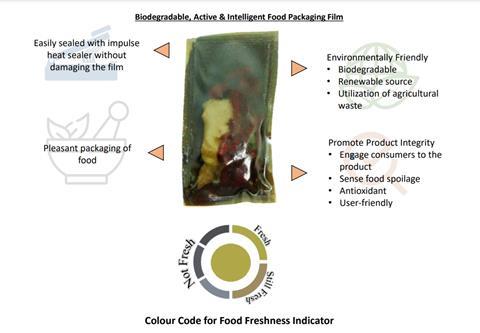 You're shortlisted for the pre-commercialized 'Active and Intelligent' category. What do you see as the key demands and challenges in relation to smart packaging?
The F&B [Food and Beverage] industry is flourishing yet highly competitive. Only businesses with competitive advantage of economies of scale could survive. Our product fulfils the key demands of smart packaging as it is an upgraded concept of food packaging, aligned with global food wastage and environmental pollution concerns, which would be resilient in the food value chain.
Smart packaging should also align with the policies and legislations of governments all around the world in combating plastic pollution. Despite all the strengths it possesses, the key barrier of this product is its higher cost compared to traditional, non-intelligent plastic packaging. This elevated cost is often associated with environmental, social and governance (ESG) investment. However, the cost has dropped in these last few years and is expected to decline even further, hoping that its cost will be as low as everyday goods in near future.
What do you think are the main opportunities in this area or what future innovations do you predict in this area?
The role of food packaging has extended beyond containment of food. Consumers are looking for sustainable packaging capable of reducing food wastage and ensuring victual quality. According to Meticulous Research, the market of smart packaging (including both active and intelligent packaging for food, beverages, pharmaceuticals and automotives) is expected to achieve $43.6 billion by the year 2027 at a compound annual growth rate (CAGR) of 5.2% within the forecast period from 2020 to 2027.
Since these technologies are mostly under the "infancy" research stage, an untapped market is open for the investors keen on expanding into intelligent food packaging. Therefore, businesses are looking into a more sophisticated and holistic food packaging from the aspects of health and environmental friendliness. By transforming the concept of food packaging, aligned with global food wastage and environmental pollution concerns, the market players could grab the golden opportunities in the food value chain, creating resilience.
The winners of the Sustainability Awards 2023 will be announced at the Sustainable Packaging Summit, which takes place in Amsterdam on 14-15 November. The Summit mobilizes leaders of the FMCG value chain, policymakers, NGOs, recyclers and investors to collaborate, remove barriers and identify opportunities on the road to sustainable transformation.
To learn more or register, visit https://www.packagingsummit.earth/amsterdam2023/.