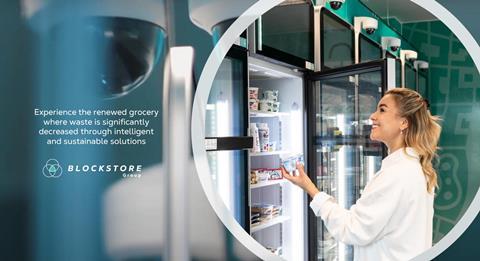 Next in our Finalist Interview series for the Sustainability Awards is the Blockstore Group with its Automated Smart Stores and Smart Supply Chain. We spoke to Blockstore Group about this entry, which has been nominated in the commercialized E-commerce category.
You're a finalist in the Sustainability Awards 2023. Congratulations! To start off, could you summarise your entry, in less than 50 words?
Blockstore's solution provides maximised autonomy to local grocery stores and supermarkets with boosted automation. This includes real time 'best before' date tracking for all products enabling huge food waste reduction potential, from the warehouse to the stores and to consumers.
Why do you think the judges were impressed with your entry? Tell us about what is innovative about your project and/or about its impact on packaging sustainability.
The barcode-based system has been used to its max and we must change the way current grocery stores are operating. They need to be more accurate and digitalised to decrease food waste and increase efficiency. Today, 30% of the food in the full grocery supply chain is wasted.
How has your innovation/initiative been received?
First, we needed to push our solution to the same level as our industry peers in autonomous stores, and then push beyond this with the item level tracking capabilities and automation efficiency we bring. This has now started to resonate with several customers continuing with us, we now have stores in Scandinavia and we are also pushing for new pilot stores in central Europe.
You're shortlisted for the E-Commerce category. What do you see as the key demands and challenges in relation to packaging for the direct-to-consumer channel?
The ability to track products and their freshness at item level (such as 'best before' date tracking), and to be able to share real time accurate item inventory and the related expiry dates throughout the omnichannel. This will boost online sales and enable local supermarkets with new technology to bloom again. It is known that the delivery hub for online sales is the most efficient way of direct-to-consumer delivery. Our new solution also enables online [and] instore, which until now has not been able to be developed, to increase sales revenues.
What do you think are the main opportunities in this area or what future innovations do you predict in this area?
Better control of food items in the whole supply chain and moving towards the general thinking that less is more. Delivering the right products, at the right time, to the right place.
The winners of the Sustainability Awards 2023 will be announced at the Sustainable Packaging Summit, which takes place in Amsterdam on 14-15 November. The Summit mobilizes leaders of the FMCG value chain, policymakers, NGOs, recyclers and investors to collaborate, remove barriers and identify opportunities on the road to sustainable transformation.
To learn more or register, visit https://www.packagingsummit.earth/amsterdam2023/.