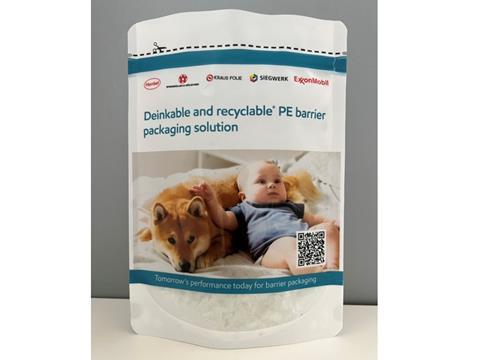 Next in our Finalist Interview series for the Sustainability Awards is Siegwerk with its printable CirKit ClearPrime delamination and deinking primers. We spoke to Siegwerk about this entry, which has been nominated in the commercialized Recyclable Packaging category.
You're a finalist in the Sustainability Awards 2023. Congratulations! To start off, could you summarise your entry, in less than 50 words?
Our entry, CirKit ClearPrime, is a series of innovative primers that enable delamination and deinking of reverse-printed laminated packaging structures in industrial hot washing processes. This significantly improves the recyclate's quality in aspects such as discolouration, gels and odour, widening its application scope to high performance film segments.
Why do you think the judges were impressed with your entry? Tell us about what is innovative about your project and/or about its impact on packaging sustainability.
We believe the judges appreciated our technology as a breakthrough in the recycling of laminated packaging materials and for its seamless integration with existing infrastructure. Our CirKit ClearPrime products can be printed in-line at industrial speeds and are designed for effective delamination and deinking utilising the growing hot washing infrastructure.
Furthermore, our successful cross value chain collaboration work to create the first prototypes at industrial scale demonstrated our commitment and the practical feasibility of our solution. Combined with the significant potential of our technology to enhance recyclate quality and contribute to the circular economy in packaging, these factors likely impressed the judges.
How has your innovation/initiative been received?
The response to CirKit ClearPrime has been extremely positive. As demand grows for high-quality recyclates, deinking is emerging as a crucial enabler to achieve Europe's circularity targets. Laminates have long presented a tough challenge in this respect.
Now that we've introduced a solution, stakeholders across the value chain are eager to validate our technology within their operations and explore its potential in other challenging applications. This includes the delamination of non-recyclable multi-material laminates and deinking of surface-printed structures that are resistant to hot alkaline conditions, such as those cross-linked via E-Beam/UV or protected with a 2K-overprint varnish.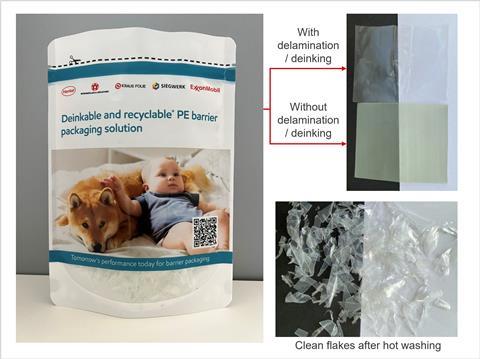 You're shortlisted for the Recyclable Packaging category. What do you see as the key demands and challenges in relation to design for circularity in packaging?
One key challenge of designing for circularity in packaging is managing the complexity of flexible structures. Enhancing recyclability is essential, yet it's equally important not to compromise on the packaging's functionality, which has been optimised over decades. Instead of starting from scratch, our approach is to innovate within the existing framework.
CirKit ClearPrime bridges this gap by marrying functionality and recyclability and utilising the expected adoption of alkaline hot washing by recyclers. However, our innovation comes with additional costs to converters and brands. Consequently, we argue the necessity for clear national guidelines, and ultimately European regulations, that prioritise design for deinking.
Such regulatory support would enable certification, providing assurance of a high-quality output and incentivising stakeholders to invest in deinkable packaging designs and advanced mechanical recycling processes incorporating deinking.
What do you think are the main opportunities in this area or what future innovations do you predict in this area?
True opportunity lies in being among the first to implement deinking and delamination processes for post-consumer waste, going beyond traditional post-industrial and closed-loop-derived feedstocks. By utilising delamination/deinking technologies and advanced sorting and washing, we can tap into economic and environmental potential through upcycling printed waste.
While this requires continued innovation, the future seems promising with the advent of technologies such as digital watermarks and tracers, which are currently in the trial phase. Though large-scale adoption is yet to be achieved, these advancements hold the potential to unlock a truly circular packaging economy.
The winners of the Sustainability Awards 2023 will be announced at the Sustainable Packaging Summit, which takes place in Amsterdam on 14-15 November. The Summit mobilizes leaders of the FMCG value chain, policymakers, NGOs, recyclers and investors to collaborate, remove barriers and identify opportunities on the road to sustainable transformation.
To learn more or register, visit https://www.packagingsummit.earth/amsterdam2023/.