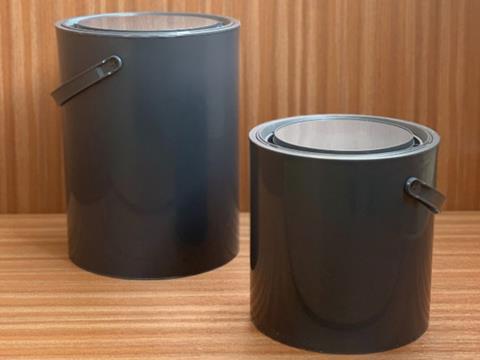 Next in our Finalist Interview series for the Sustainability Awards is Berry Global with its Closed Loop Recycled Paint Containers. We spoke to the company about this entry, which has been nominated in the commercialized Driving the Circular Economy category.
You're a finalist in the Sustainability Awards 2023. Congratulations! To start off, could you summarise your entry, in less than 50 words?
Our closed loop system provides a solution to tackle the problem of recycling used plastic paint containers through a circular partnership that combines paint and packaging recovery and recycling.
Why do you think the judges were impressed with your entry? Tell us about what is innovative about your project and/or about its impact on packaging sustainability.
Although paint containers have used recycled plastic in their manufacture for many years, recycling the containers after they were finished was much more of a problem because it was very difficult to remove enough of the residue paint from the containers to make them suitable for recycling. The solution we have devised tackles this by treating both the containers and the paint as valuable assets.
The paint is first removed and re-engineered into new paint by a specialist company, Paint360. This leaves the empty paint cans ready to be recycled back into paint cans again. In this way, we are reducing the environmental impact of both the paint and its packaging through the reduction of waste product sent to landfill and the carbon emissions associated with incineration.
How has your innovation/initiative been received?
We have been very pleased by the positive reaction to the scheme. It shows how paint companies can meet customer demands for more sustainable solutions and gives consumers greater opportunities to sustainably dispose of waste paint and used paint containers.
In particular, the success of the project has served as a proof of principle that will allow the expansion of the concept, and we are already seeing interest from some of our major customers.
You're shortlisted for the Driving the Circular Economy category. What do you see as the key demands and challenges in relation to circularity in packaging?
At Berry, our focus is on designing for circularity. This includes areas such as mono-material packs, creating containers that can be reused or repurposed, lightweighting and the use of recycled material. One of the challenges in terms of recycled material is to ensure that this is of sufficient quality to ensure packs can deliver the same levels of performance and functionality as those made from virgin material. Closed loop systems are one way in which this can be achieved.
What do you think are the main opportunities in this area or what future innovations do you predict in this area?
Ensuring the regular supply of high-quality recycled plastics will be critical to maintaining and further developing plastics' role in the circular economy. As one of Europe's leading recyclers of both rigid and flexible plastic, Berry is continuing to invest in the latest technologies to help deliver this. Our new CleanStream® technology, for example, is the world's first closed-loop system to mechanically process domestically recovered household waste polypropylene (PP) back into food-grade packaging.
The winners of the Sustainability Awards 2023 will be announced at the Sustainable Packaging Summit, which takes place in Amsterdam on 14-15 November. The Summit mobilizes leaders of the FMCG value chain, policymakers, NGOs, recyclers and investors to collaborate, remove barriers and identify opportunities on the road to sustainable transformation.
To learn more or register, visit https://www.packagingsummit.earth/amsterdam2023/.