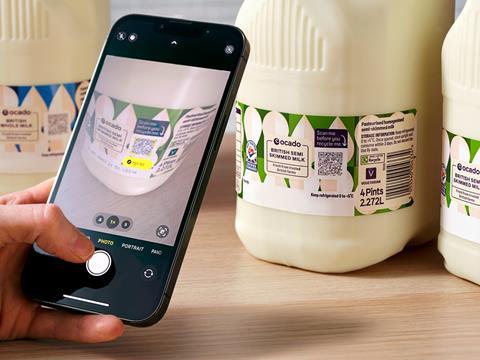 Consumers in the UK will be rewarded £0.20 for recycling milk bottles as part of what is claimed to be a 'world-first' recycling initiative. UK-based recycling technology innovators Polytag and Swedish recycling app Bower have teamed up with online supermarket Ocado Retail, to give consumers a financial reward for recycling milk bottles.
From 14 July, Ocado Retail's customers have been able to scan a QR code on Ocado Own-Brand two and four-pint plastic milk bottles to receive a reward for putting their packaging in a recycling bin.
In total, more than 8 million Ocado milk bottles will feature Polytag's 'unique-every-time' QR codes on their labels. The first 20,000 codes scanned will see customers receive 20p in their digital wallet through the Bower app, which can be withdrawn to their bank account. All barcodes scanned afterwards will be offered other perks including cash, coupons and charity donations via the Bower app.
Consumers can claim their reward by downloading the app, setting up their account and adding their regular recycling bins and bank account. Once they have scanned the QR code on the milk bottle through the app and disposed of the packaging in their registered recycling bin, they can withdraw the money.
Designed to replicate the deposit consumers will be able to redeem when a Deposit Return Scheme (DRS), covering England, Scotland, Wales and Northern Ireland, is introduced in 2025, this initiative will demonstrate the viability and convenience of a Digital Deposit Return Scheme (DDRS) in the UK, it is believed.
Enabling consumers to receive a cash incentive for recycling using their smartphones rather than returning the bottles to reverse vending machines, a DDRS makes use of existing kerbside recycling systems to deliver maximum convenience.
Alice Rackley, CEO of Polytag, commented, "Our unique-every-time QR code technology has the potential to transform recycling in Europe by enabling brands and legislators to offer appealing financial rewards, that can be easily received and by demonstrating the viability of a DDRS, for which there is growing support across Europe."
Suwar Mert, CEO and Founder, of Bower, added: "For the first time, we now have a solution and possibility to test a digital deposit return scheme. The collaboration will transform recycling habits by rewarding recycling behaviour in the UK but holds the potential for further international expansion."
This article was created in collaboration with AIPIA (the Active and Intelligent Packaging Industry Association). For a full update on active and intelligent packaging, come along to the AIPIA World Congress (co-organized by Packaging Europe) in Amsterdam on 14-15 November. The only smart packaging event covering the entire technology spectrum, the World Congress is a meeting place for the global active and intelligent packaging industry where brand owners, innovators, and other stakeholders can network and see and discuss the latest trends and innovations. Register to attend here.