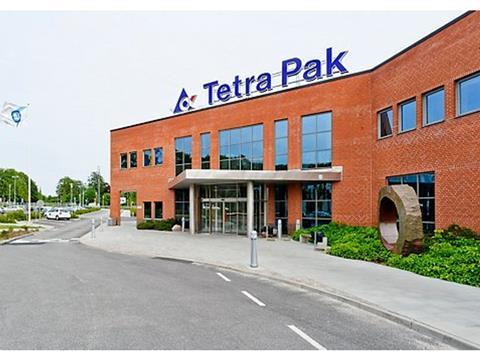 Tetra Pak and Axjo Group are collaborating on a feasibility study to build a new recycling plant for the polyAl layers in carton packages with an annual recycling capacity of 10,000 tonnes.
In carton applications, polyAl layers – made from polymer and aluminium – are used as barriers against oxygen and humidity to protect the product. Axjo already claims to take these layers from used Tetra Pak packaging and recycle them into solutions for the wire and cable industry, including 3D printing spools.
Scheduled to commence operations in 2025, the Gislaved-based plant is set to upscale this process – recycling olyAl components and incorporating the components into injection moulded plastic products like cable drums, reels, spools, and plastic storage boxes.
It is also hoped that the process will drive polyAl recycling in Sweden, Denmark, and Norway, as well as meeting the EU Packaging and Packaging Waste Regulation and demonstrating the benefits of recycling in increasing the sustainability credentials of the food packaging sector.
A joint investment of up to €24 million is expected to drive the facility's development. In the wider industry, an estimated €200 million has already been invested into the EU's capacity for beverage carton recycling, and an additional €120 million is expected to be invested by 2027.
Alex Henriksen, managing director Tetra Pak North Europe, says: "This marks the start of implementing a completely circular economy for beverage cartons in Sweden, Denmark and Norway, and shows that beverage cartons are a valuable resource that can be utilised over and over again in many applications."
"We are proud and excited to collaborate with Tetra Pak on this circular innovation project," adds Axjo Group CEO Jacob Nilsson. "The PolyAl raw material will be a crucial component in our new procurement strategy.
"Having access to large quantities of this raw material in our local area opens new opportunities for us to create recycled Greenology materials, with an exceptionally low CO2 footprint. This will provide our customers with something truly unique and sustainable.
"We also foresee that this will create new job opportunities in the municipality of Gislaved moving forward."
In a technical article by EXTR:ACT e.V in partnership with ACE, the companies outlined the potential benefits for material recycling stemming from the increased collection of laminated paper packaging – including increasing opportunities for polyAl usage.
Meanwhile, Tetra Pak has also worked alongside Stora Enso to open a new recycling line for post-consumer beverage cartons in Ostrołęka, Poland, with the intention of tripling the country's beverage carton recycling capacity.
If you liked this article, you might also enjoy:
The Lidl approach to packaging sustainability
How did Brazil achieve its 100% aluminium can recycling rate – and can it be replicated in the EU?
Experts have their say on the EU's Packaging and Packaging Waste Directive revisions
A deep dive into the most important packaging sustainability trends and solution