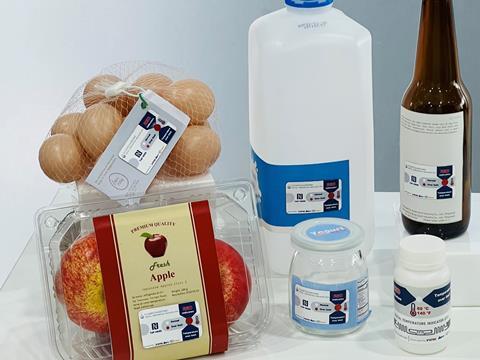 Next in our Finalist Interview series for the Sustainability Awards is Cleantech & Beyond with its Digital Temperature Indicator (DTI). We spoke to the company about this entry, which has been nominated in the pre-commercialized Active and Intelligent category.
You're a finalist in the Sustainability Awards 2023. Congratulations! To start off, could you summarise your entry, in less than 50 words?
Cleantech & Beyond's Digital Temperature Indicator or DTI offers a novel smart label solution for tracking temperature-sensitive products at item-level. With battery-free operation, the DTI indicates a temperature excursion event both visually and electronically, allowing the status to be monitored manually as well as digitally and wirelessly via RFID/NFC [Radio Frequency Identification/Near Field Communication].
Why do you think the judges were impressed with your entry? Tell us about what is innovative about your project and/or about its impact on packaging sustainability.
Our Digital Temperature Indicator (DTI) is the first of its kind. While its user-friendly design and ease of use may appear simple, the DTI is the culmination of technological developments from basic research to a practical innovation aimed at revolutionising wireless temperature monitoring.
By constructing the DTI from our patented thermoresponsive materials, our technology offers three key features in one device: battery-free operation for continuous monitoring; a data-logging functionality for temperature excursion events; and a wireless digital interface for integration with the enterprises' inventory, transportation and warehouse management systems.
These features and the cost-effectiveness of DTIs enable them to be used in smart packaging for tracking temperature-sensitive products at item-level from the manufacturing point, during transportation and warehousing, through to the storage and usage point by end users. When a temperature excursion event occurs, the operator can detect the problem on individual packaging and discard only the spoiled item instead of destroying the whole lot as commonly done in practice. As such, the DTI can help significantly reduce waste and total carbon footprint in the supply chain.
The battery-free construction means our DTIs can be used in smart packaging without adding the environmental issues associated with battery waste. In addition, our thermoresponsive material, which is the core of the sensing-element, is fabricated on paper and compatible with paper-based RFID/NFC inlays.
We add a sensing function to RFID/NFC labels with sustainability in mind. It allows quality-tracking of each item while reducing manual labour, provides information about the status of temperature-sensitive items and increases operational efficiency. The DTI can be used to ensure the safety and freshness of goods and to monitor the efficiency of temperature-sensitive pharmaceutical or medical products.
When and how do you intend to launch/commercialize this innovation?
Our startup company, Cleantech & Beyond, has been incorporated and launched to commercialize the DTIs since June 2023. The company is based in Wangchan District, Rayong Province in Thailand. By ensuring that our technology can be seamlessly integrated with the RFID/NFC labels, we leverage the existing manufacturing facilities and connectivity infrastructure to deploy the DTI quickly and cost-effectively.
Passive RFID/NFC labels can be easily upgraded to DTI which enables the functionality to track the temperature at item-level. Through our industrial connections in the RFID/NFC business, we work closely with our global partners to establish a supply chain and distribution channels. Furthermore, we actively look to engage with new partners and potential customers to learn about their requirements and conduct use-case testing.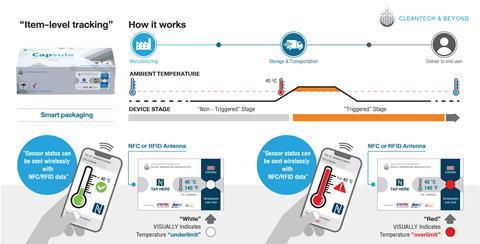 You're shortlisted for the pre-commercialized 'Active and Intelligent' category. What do you see as the key demands and challenges in relation to smart packaging?
In a fast-moving world with global interconnectedness, one of the key demands is 'information'. With the integration of RFID/NFC technology, the 'smart' packaging becomes an invaluable gateway for relaying real-time information and enhancing consumer experiences. For the business, it can provide real-time visibility into the movement of products through the supply-chain. Our DTI adds the 'intelligence' of temperature-monitoring.
One of the key challenges is definitely sustainability. How can we add more functions to active and intelligent packaging without adding more burden to the environment? The consideration of sustainability should be integrated into new technology development from the design and planning stage. It is a highly complex issue that requires an interdisciplinary team to tackle.
What do you think are the main opportunities in this area or what future innovations do you predict in this area?
At Cleantech & Beyond, we envision a future where packaging moves beyond its traditional role and becomes truly intelligent. We believe our developed technology can be expanded to create packaging that goes further than temperature monitoring, incorporating the sensing of other environmental parameters such as UV exposure, humidity levels, gases, and vapors. By integrating these multi-senses into packaging, we unlock the potential to prevent losses and ensure a higher level of safety for products and consumers.
It is possible for packaging to become an active guardian, constantly monitoring and analysing its surroundings. The future of smart packaging empowers brands to proactively address potential risks and safeguard product integrity. By detecting UV radiation, packaging can shield sensitive products from harmful exposure. Monitoring humidity levels enables the preservation of goods that are prone to moisture damage. Detecting gases and vapours provides early indications of spoilage or contamination, ensuring product safety.
However, our commitment to innovation goes hand in hand with sustainability. As we pioneer technological advancements, we must also be environmentally conscious. By moving towards sustainable practices and materials, we strive to create technologies that enable novel packaging to be intelligent both in its functionality and in its impact on the planet.
We are proud and excited to be part of this vibrant community which, by merging technology, innovation, and sustainability, can reshape the packaging industry towards the future where packaging is not just a passive container but an active and intelligent partner in delivering exceptional experiences while protecting our planet.
The winners of the Sustainability Awards 2023 will be announced at the Sustainable Packaging Summit, which takes place in Amsterdam on 14-15 November. The Summit mobilizes leaders of the FMCG value chain, policymakers, NGOs, recyclers and investors to collaborate, remove barriers and identify opportunities on the road to sustainable transformation.
To learn more or register, visit https://www.packagingsummit.earth/amsterdam2023/.