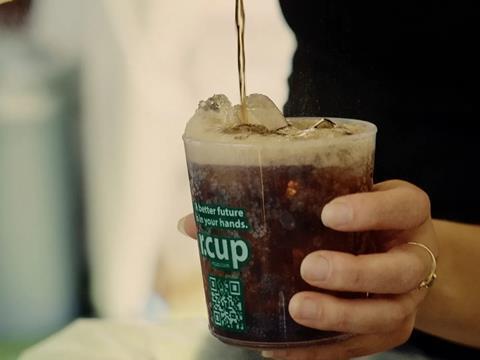 The Coca-Cola Company is conducting several pilots for reusable packaging in North America, including a new partnership with start-up r.Cup to bring reusable polypropylene cups to a range of venues and cities in the USA.
In early 2022, Coca-Cola announced its World Without Waste global sustainable packaging strategy, in which it aims to serve 25% of its global product volume in reusable packaging by 2030. This includes returnable bottles and refillable cups for fountain dispensers.
In regions where reuse infrastructures and supply chains have already been established – for example, Africa, Latin America, and Europe – returnable glass and plastic bottles are highlighted as a 'top priority'. However, it is reported that dispensed drinks are more common in North America, which would make refillable vessels and cups a more efficient path towards reducing single-use waste and overconsumption of new materials.
r.Cup offers end-to-end reusable cup solutions for large-scale events, festivals, cinemas, and sports and entertainment venues. Its partnership with Coca-Cola is intended to scale up its turnkey platform in Los Angeles, San Francisco, Seattle, Denver, and Washington D.C.
The company delivers durable polypropylene cups, which are thought to provide consumers with a 'more premium drinking experience', directly to a site. r.Cup collects them again after use, then washes, sanitises, inspects, and repackages them for reuse. Through this process, it is claimed that the cups can be used hundreds of times, then upcycled at end-of-life.
Collection bins, staff training, signage, and social media content are also provided by the start-up. Customers are reportedly able to use its r.Turn technology to monitor deliveries, manage inventories, and track their environmental impact.
Already, the partnership between Coca-Cola and r.Cup has led to a further partnership with a prominent venue operator in Washington D.C., and two cinemas in Seattle have apparently implemented the r.Cup programme.
As it expands into new cities, the system is set to create 'dozens' of new jobs for second-chance workers and military veterans via the opening of new wash facilities later this year. A percentage of profits are set to be donated to local non-profits that focus on overcoming the packaging waste crisis.
"We are working across our supply chain to reduce our environmental impact and ensure all of our packaging has value in the circular economy," said Anton van Zyl, d irector of Sustainable Packaging Strategy, Coca‑Cola North America. "We're growing reusable cup programs in partnership with our foodservice and on-premise customers. Partnering with innovators like r.Cup is one such example where through pilots we are experimenting, learning and expanding the options for our consumers to enjoy our beverages in reusable packaging."
"Our mission is to build a movement – and ultimately an infrastructure – to support the reuse economy while creating a broader economic impact in the community," added Michael Martin, r.Cup founder and CEO, adding that every element of the closed-loop model is designed to drive operational efficiencies for concessionaires. "Offering reusable cups is a small way we can all make a big dent in the packaging waste challenge."
Other partnerships include Coca-Cola's collaboration with Validfill to launch reusable cups with microchip and QR-enabled technologies for Coca-Cola Freestyle machines at theme parks, university campuses, and cruise ships. Its work with A&W Canada has also given rise to an exchangeable cup programme, while the company is also aiming to encourage foodservice customers to adopt reusable fountain cups wherever appropriate in its work with Reuse Seattle.
Coca-Cola also states its commitment to the NextGen Consortium, which seeks to drive the circularity of cups and other foodservice packaging.
In the Scottish Highlands, environmental charity Keep Scotland Beautiful is launching a pilot scheme seeking to push for the adoption of reusable cups over single-use options.
McDonald's has also been paying attention to reusable solutions. Its French chains recently went viral on Twitter for its reusable packaging initiatives, although the company's director of Market Sustainability in Europe, Floor Uitterhoeve, warned Packaging Europe about its associated downsides – for example, increased plastic use and the potential that the packaging may not be returned.
If you liked this article, you might also enjoy:
The Lidl approach to packaging sustainability
How did Brazil achieve its 100% aluminium can recycling rate – and can it be replicated in the EU?
Experts have their say on the EU's Packaging and Packaging Waste Directive revisions
A deep dive into the most important packaging sustainability trends and solution