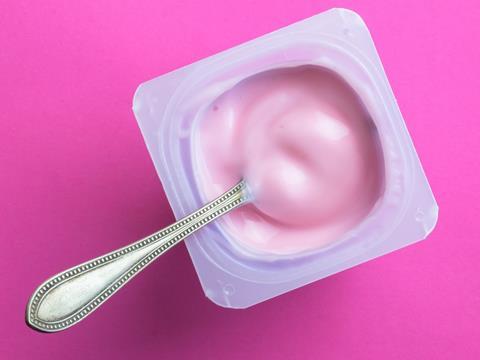 Plastiques Venthenat, Amcor, Olga, Cedap, and Arcil-Synerlink have developed a form-fill-seal yoghurt pot that claims to be fully recycle-ready, with its 98.5% polystyrene content expected to smoothen the sorting and recycling processes.
Polystyrene is said to remain the main plastic resin used in four-pack yoghurt and dessert packaging in Europe – over 150,000 tons in Europe and 50,000 in France, according to Plastique Venthenat – and, subsequently, form-fill-seal machines are common in the continent. These are reportedly designed for and highly compatible with polystyrene.
In April 2019, CITEO opened a call for an eco-design project, leading the four companies to collaborate – alongside later contributions from form-fill-seal machine suppliers Arcil-Synerlink. This led to the creation of a 'standard yoghurt and dessert cup', produced on form-fill-seal machines using a range of materials.
Previously, its rigid bottom consisted of a single polystyrene sheet thermoformed on the form-fill-seal line, while the banderol around the pot was made of paper, ink, and hot melt wax and is cut and stuck around the cup on the line. A laminate known as 'mixpap' was used to create the lid; this was made from ink, paper, glue, polyester, and heat seal varnish, with certain applications also using aluminium.
While its rigid bottom is still made from a single polystyrene sheet, now the lid and banderol are made from polystyrene film, ink, and heat seal varnish. This is said to result in a 98.5% polystyrene pack that increases efficiency in the sorting and recycling processes due to the high content of raw material.
A series of tests conducted with two existing near infra-red (NIR) sorting technologies have apparently proven the pack's increased efficiency. In turn, the improved recycling yield and quality aim to close the loop on polystyrene by incorporating food-grade recycled polystyrene back into the same packaging, with the pot apparently adhering to RecyClass and COTREP's recyclability guidelines for rigid polystyrene packaging.
The new design also expects to contribute towards the goals of the Packaging and Packaging Waste Regulation, as well as the French regulation mandating that all packaging is recyclable or reusable by 2025. Furthermore, it anticipates the strengthening of new industrial streams for the mechanical and chemical recycling of polystyrene.
The pack aims to encourage investment in European polystyrene recycling plants and enable yoghurt producers to claim that their packaging is fully recyclable in France.
In the later months of 2022, Styrenics Circular Solutions unveiled a new recycling process for foamed and extruded polystyrene trays in a bid to close the loop on polystyrene packaging; and INNOTECH completed a trial to source polystyrene grade from household food packaging waste and use it to produce yoghurt pots.
Meanwhile, INEOS Styrolution, TOMRA, and EGN Entsorgungsgesellschaft Niederrhein have announced this month that they will open a new advanced mechanical recycling facility to process 40kt of post-consumer packaging waste into recycled polystyrene every year.
If you liked this article, you might also enjoy:
The Lidl approach to packaging sustainability
How did Brazil achieve its 100% aluminium can recycling rate – and can it be replicated in the EU?
Experts have their say on the EU's Packaging and Packaging Waste Directive revisions
A deep dive into the most important packaging sustainability trends and solution