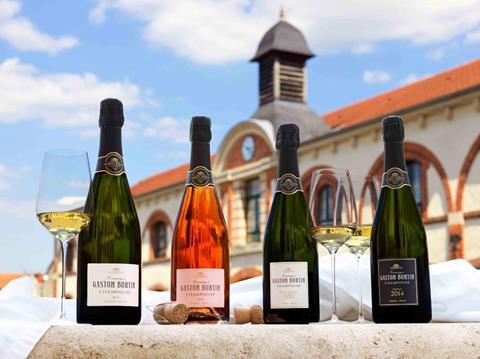 Maison Burtin, a champagne producer located in Epernay, France has chosen an identification execution solution from technology company Zetes to provide traceability of its bottles from packaging to delivery. The system combines the ZetesAtlas solution with Zetes MD smart printing and applicator labelling stations, linked to the ZetesMedea order preparation solution. This project forms part of a global digitalisation strategy aiming to optimise the company's packaging and picking solutions.
To improve quality control, reduce errors and enhance its brand image, Maison Burtin decided to digitalise its traceability by integrating automated processes using new label printing/application and picking technologies. "The project originated because large retailers and logistics companies started requiring us to identify all our products with an EAN 128 code. All champagne cases leaving the site must be marked with adhesive labels, containing a specific organised set of information. We therefore approached Zetes to supply an automated solution to identify all our products from production to shipment," explains Bernard Guerbette, new build and project manager at Maison Burtin.
The ZetesAtlas solution which is fully integrated into the company's ERP [Enterprise Resource Planning] guarantees total automated control of the marking of the packing boxes on its packaging lines, it says. This is controlled via a central operator interface. For each box processed, one or two brand and reference labels are printed and affixed to identify the champagne cases. In addition, to prevent any production downtime the printing head and the label applicator head have been duplicated on each line to facilitate spool replacement.
Once the boxes have been labelled, palletisation is the next step. Again, the process is fully automated. It is then identified and validated by two pallet labels applied to two faces by the Zetes MD6000 smart printing and applicator stations and stored prior to dispatch to the warehouse.
Enabled by the imminent integration of the ZetesMedea solution, the company will also be able to modernise its order picking processes by adding an automatic picking system connected to the mobile technology. The purpose of this solution will be to replace the old picking method, which is still a paper-based system.
"This project has improved our efficiency and productivity, mainly through the standardisation of all our label formats. This means that we now no longer need to manage hundreds of different pre-printed labels, because the labels are completed automatically. We also do not need to change the spools according to the different label formats. Those procedures were time-consuming and required organisational effort," adds Bernard Guerbette.
The company claims this comprehensive global project integrating the entire chain from production to packaging and shipping of its bottles has led to a substantial increase in productivity, combined with the guarantee of perfect traceability.
Maison Burtin was founded in 1933 by Gaston Burtin, located in Epernay: the Château des Archers. Holding major long-term grape purchase agreements with hundreds of partner vineyards, Maison Burtin vinifies and matures a variety of champagne cuvées.
This article was created in collaboration with AIPIA (the Active and Intelligent Packaging Industry Association). For a full update on active and intelligent packaging, come along to the AIPIA World Congress (co-organized by Packaging Europe) in Amsterdam on 14-15 November. The only smart packaging event covering the entire technology spectrum, the World Congress is a meeting place for the global active and intelligent packaging industry where brand owners, innovators, and other stakeholders can network and see and discuss the latest trends and innovations. Register to attend here.