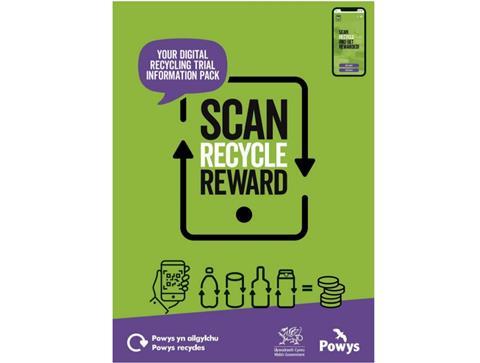 The Welsh Government has partnered with non-profit DDRS Alliance, Powys County Council (PCC) and WRAP Cymru to trial a large-scale digital deposit return scheme (DDRS) in Brecon, Powys.
Designed to test how digital technology can be used to encourage more recycling, Brecon's Scan Recycle Reward recycling trial began this month, with welcome packs arriving in the post for Brecon residents from 13 July. The welcome pack contains an introductory letter, an information leaflet and stickers to apply to household recycling containers.
Trial participants can claim cash rewards by scanning uniquely labelled drink containers with their mobile phones before recycling at home, through their normal kerbside recycling collection or using 'on the go' return points around the town. The drinks containers are available to buy from shops within Brecon and a list of participating retailers and 'on the go' recycling point locations is available online.
Councillor Jackie Charlton explains: "For every container scanned and recycled correctly, participants will have the choice to 'cash in' their reward or donate it to the Brecon Food Bank and the Wildlife Trust of South and West Wales, our two nominated local charities.
"This trial will help us understand people's preferred return options for recycling drinks containers and learn more about recycling behaviour. This will be the first time in the world that a whole town will use this new technology and the findings will be analysed and shared with the rest of the UK."