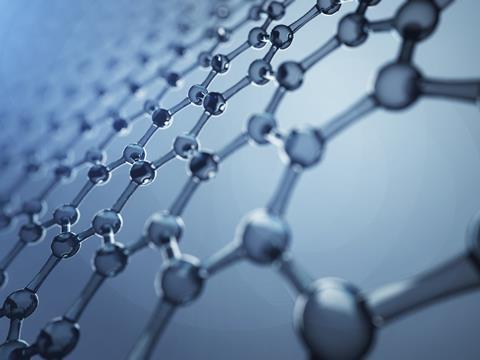 Gerdau Graphene has worked with Packseven to commercialise what claims to be the world's first graphene-enhanced stretch film, thought to package 120% more material without breaking compared to conventional films.
Developed using Gerdau Graphene's specialised graphene additive technology, the film is ultra-thin and, reportedly, more durable than standard alternatives. As a result, it expects to reduce the amount of material consumed per pallet and optimise safety in both packing and loading.
As one of the strongest materials on Earth, graphene consists of an atomic monolayer of carbon atoms in a hexagonal structure similar to a honeycomb. Gerdau Graphene states that, when blended with plastics, it enhances a material's physical and mechanical properties, including its strength; barrier properties against liquids and gases; protection against weather, oxidation, and UV light; and electrical and thermal conductivity.
"Integrating graphene into our stretch film enhances its known properties, such as increasing its resistance to sharp objects that could pierce it," explained Kléber Ávila, CEO of Packseven. "On top of that, it's more efficient – you use less of it when stretching, which means a big jump in cargo safety.
"Our goal is to provide a more durable film to the market and we think this will set a new bar for quality, delivering numerous benefits to transportation, storage, and all sorts of packaging needs."
Flavia Zangrandi, head of Product Development at Gerdau Graphene, continued: "The addition of graphene to polyethylene plastic films has shown gains in material resistance, making it possible to significantly reduce the thickness of the film. The addition of graphene thus allows for a performance gain combined with a more sustainable material due to the reduction of virgin plastic and/or the increase of recycled plastic in the composition of the final product.
"Gerdau Graphene's mission is to harness the power of graphene for industrial applications and our partnership with Packseven will deliver the next-generation of high-performance, low-weight films to the market."
The development follows the release of Gerdau Graphene's Poly-G graphene-enhanced polyethylene masterbatch. With Sumitomo Corporation distributing the additive in Japan, it is designed for plastic resins in extruded film, profile, and sheet applications – apparently leading to a 25% reduction in thickness, a 39% reduction in damaged packaging for disposal, and a 7% increase in film productivity.
Meanwhile, OSCiAl's graphene nanotube dispersions were previously developed for thin conductive films and packaging in a bid to provide water-based dispersions with low solid content, targeting new markets for the use of nanotubes.
If you liked this article, you might also enjoy:
The Lidl approach to packaging sustainability
How did Brazil achieve its 100% aluminium can recycling rate – and can it be replicated in the EU?
Experts have their say on the EU's Packaging and Packaging Waste Directive revisions
A deep dive into the most important packaging sustainability trends and solution