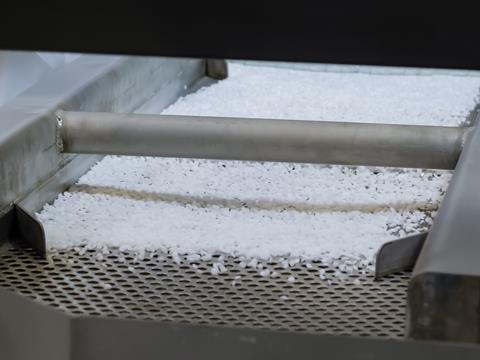 A report from Eunomia and the Alliance to End Plastic Waste is calling for the definition of quality specifications for mechanical recyclates in order to increase the volume of recycled content in plastic products and help the plastics industry meet key application requirements.
A shortage in recycled plastic supply that meets the required quality specifications for packaging is cited as a roadblock to industry players reaching their current recycling targets. These are only set to increase with the proposal of the European Commission's Packaging and Packaging Waste Directive (PPWR).
The report also highlights a lack of harmonised quality requirements that currently inhibits the optimisation of sorting and recycling infrastructure to produce high-quality recyclates that meet design guidelines and brand owner requirements.
As such, it aims to guide the industry through a united approach to developing quality guidelines for plastic recyclate. Seeking to fast-track their adoption and development, it intends to serve as a 'starting point' to implement such guidelines on an industrial scale.
Its solutions include three polyolefin recyclate target specifications developed in consultation with twenty-eight operators from across the plastics recycling value chain. This expects to benefit the production of HDPE blow moulded bottles, LDPE extruded shrink film, and PP injection moulded caps and tubs – all of which constitute a significant market share within the packaging industry, and are therefore noted for their potential to drive an increase in the use of recycled content.
The report continues to recommend that the industry support the finalisation of technical work on target quality guidelines by engaging brand owners, retailers, and other companies within the value chain, as well as defining and holding industrial trials to validate the appropriate recyclate quality needed for defined packaging types.
It also encourages industry players to inform ongoing certification initiatives such as upcoming standards from CEN and CENELEC, utilise that collective knowledge to speed up their acceptance and adoption within the industry, and support each other in the implementation of aligned global standards with clear and systematic guidelines.
"This work has demonstrated that aligning industry on common specifications for high-quality mechanical recyclates is possible," said Martyn Tickner, chief advisor of the Technical Solutions Centre at the Alliance. "Together with complementary measures such as design for recycling, quality specifications will help to guide the improvements needed to produce high quality recyclates in line with market needs.
"The plastics industry has ambitious recycling targets which call for rapid development of sorting infrastructure and deployment of complementary recycling technologies. Together with the industry, the Alliance looks forward to continuing our contribution to this transition. We believe rapid adoption of quality standards throughout the value chain is a key step in this process."
"A barrier in furthering the plastics circular economy is achieving a clear agreement on the specifications of materials that recyclers can produce and what the industry can use," added Andy Grant, technical director at Eunomia Research & Consulting. "This research marks a step forward in clarifying the specifications required and will support the use of higher volumes of recycled plastics in new packaging.
"We are excited to see how this resulting roadmap for the value chain can be taken from concept to action through further trials and industry engagement."
Plastics Recyclers Europe reported last year that, although Europe's total installed plastics recycling capacity rose by 13% in 2020, the operations of plastic recyclers across the continent in 2022 – and efforts to meet the EU's recycling targets – were being affected by the low availability of sorted plastic waste.
More recently, it warned that recycled content targets could be impacted by a major increase in PET imports and called for a fair policy covering imported plastics.
However, flexible polyolefin recycling capacity is said to have reached a total of 2.7 million tonnes between 2018 and 2020, with the PPWR anticipated to decouple the price of virgin and recycled polymers and encourage further investments in the flexible packaging sector.
If you liked this article, you might also enjoy:
The Lidl approach to packaging sustainability
How did Brazil achieve its 100% aluminium can recycling rate – and can it be replicated in the EU?
Experts have their say on the EU's Packaging and Packaging Waste Directive revisions
A deep dive into the most important packaging sustainability trends and solution