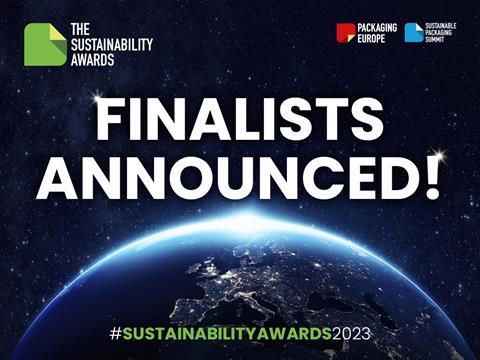 Breaking news – The international, expert jury of the Sustainability Awards, the world's most prestigious competition for sustainable packaging, has completed the first round of judging, picking out 60 innovations and initiatives as finalists across thirteen categories.
Described as the '"Nobel Prize" for sustainable packaging innovations', the Sustainability Awards attracts submissions from start-ups, global brands, academia and OEMs and from every region of the world. This year's competition received a total of 325 valid submissions, with a greater diversity than ever before.
This is reflected in the geographical and technological breadth, as well as in the quality, of this year's finalists, competing to win a coveted crystal trophy at the awards ceremony at the Sustainable Packaging Summit in Amsterdam on 14-15 November.
Without further ado, here are the finalists of the Sustainability Awards 2023:
Main competition (for commercialized innovations and broader initiatives:

Climate category
Paper wash-off label for easy re-use of packaging (Avery Dennison, Europe)
Paper bags for dishwasher detergents (Procter and Gamble & Mondi, Belgium, Germany, Hungary)
SIG Terra Alu-free + Full barrier packaging material for aseptic cartons (SIG Combibloc, Germany)
Plastic alternative that dissolves in water at ambient temperature (AB InBev & Solutum, Israel)
UV direct to metal replacment for solvent-based coatings (ACTEGA, Brasilata Labs, Plasmatreat, Brazil)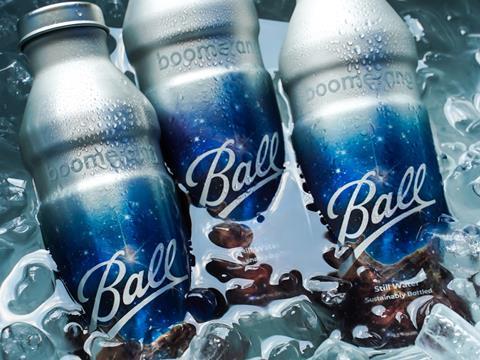 Driving the Circular Economy category
Boomerang washing-refilling system for reusable water bottles (Ball Corporation and Boomerang Water, USA)
Closed loop recycled paint containers (Berry Global, UK)
Digitising packaging recyclability, utilising software to cut through complexity (Recyda, Germany)
Smart dispensers for on-the-go reusable packaging for Chilean universities (Algramo & Coca-Cola Chile, Chile)
Reuse tech platform (VYTAL Global, Germany)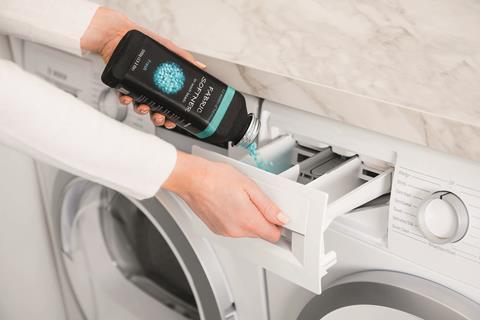 Renewable Materials category
Frndly seaweed-based flexible packaging (Go Do Good Studio, India)
MelOx NGen renewable oxygen barrier for plastics (Melodea, Israel)
ECOCLIC® cartonboard box for liquid laundry capsules (Procter and Gamble, Belgium)
The Fibre Bottle (Cullen ECO Friendly Packaging, UK)
Bioplastic keg caps (AB InBev & Erthos, India)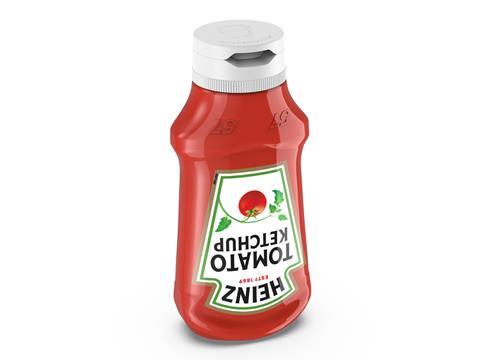 Recyclable Packaging category
CirKit ClearPrime printable delamination and deinking primers (Siegwerk, Germany)
Project Balaton monomaterial dispensing closure (Kraft Heinz, Netherlands)
All-paper TempGuard gusset insulated bag for temperature assurance (Sealed Air, New Zealand, China, Singapore)
Skip cartonboard pack for laundry detergent capsules (Graphic Packaging & Unilever, Europe)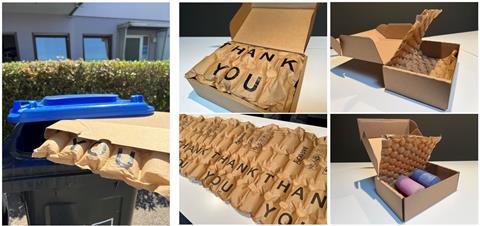 E-Commerce category
Automated smart store and smart supply chain for sustainable future (Blockstore Group, Finland)
Pre-certified frustration-free packaging for wine (Smurfit Kappa, Netherlands)
AirWave PaperWave air cushions made from recycled paper in a box (Flöter Verpackungs-Service, Germany)
Reusable e-commerce security seals (Linksmart Technologies, India)
Paper-based insulated cold chain solutions (Ranpak, USA, Netherlands)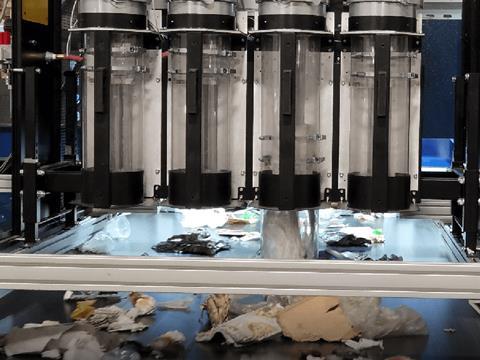 Machinery category
AI-powered automation to improve recovery of flexible packaging (AMP Robotics, USA, Netherlands, UK)
BOXpadder Vipro-P8 smart optimization of padding (Opitz Packaging Systems, Germany)
Delta OF-360 X IMA Ilapak Switzerland
paper-ON-form retrofit kit for cold-sealable paper packaging on existing flow wrapping machines (Syntegon, Switzerland)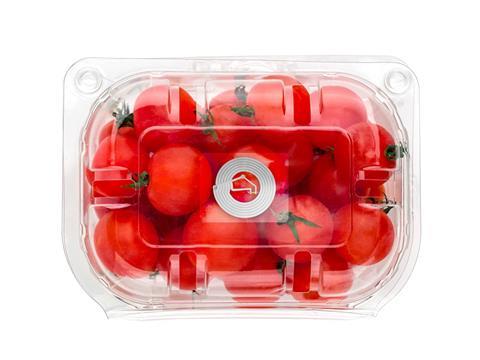 Active & Intelligent category
Smart label powered refill solution (Adrich, Netherlands, UK, USA)
Novel semiconductor chips underpinning smart reusable packaging systems (Pragmatic Semiconductor, UK)
Mess-free smart refill solution (Fyllar, Netherlands)
IoT platform for supply chain sustainability (Wiliot, Israel, USA)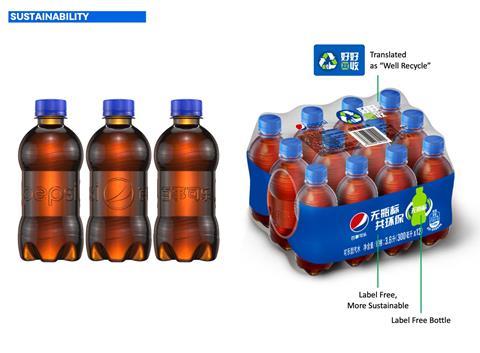 Best Practice category
Coles reusable fresh produce bag roll-out (Coles Group, Australia)
Corona beer crate protecting the ocean (AB InBev, Germany)
Corrugated sheet production powered by anaerobic digestion bioenergy (CorrBoard, UK)
Glass recycling strategy (Krysteline Technologies, UK)
Label-free bottles (PepsiCo, China)
Pre-Commercialized section of the competition: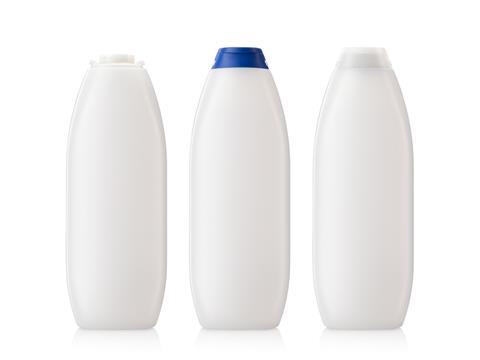 Climate (Pre-Commercialized) category
Low-carbon Canupak beauty care packaging (ALPLA, Austria)
Quantum thinking to lightweight PET bottle (Amcor Rigid Packaging, USA)
ICEBREAKER 167 producing aluminium foil rolls without core (Rotomac, Italy)
Low temperature WashOff labels for rigid PET bottles (CCL Label, Germany)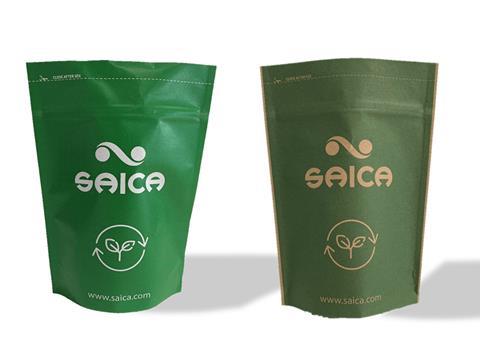 Driving the Circular Economy (Pre-Commercialized) category
COtooCLEAN recycling flexible polyolefins films back to food-grade plastic (NEXTEK, UK)
Evolution deinking primer (Flint Group, Europe)
GreenHeart Fiber paper-based structure (Saica Flex, Spain)
Smart nanocoatings to eliminate plastic waste (Nfinite Nanotech, Canada)
Paper-based packaging for heavy telecom equipment (Ericsson, Sweden)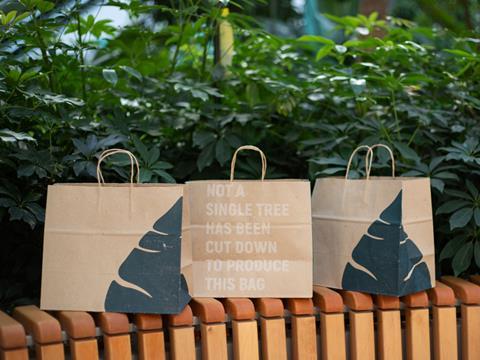 Renewable Materials (Pre-Commercialized) category
Breakthrough green chemistry process for paper packaging barriers (Cellulotech, Canada, France)
Millet Straw based paper packaging (Craste, India)
Releaf Bag - shopping bags made from fallen leaves (Releaf Paper, Ukraine & France)
Tablet blister made from renewable raw materials with organic coating (PAPACKS, Germany)
traceless® compostable material made from agricultural plant residues (traceless materials, Germany)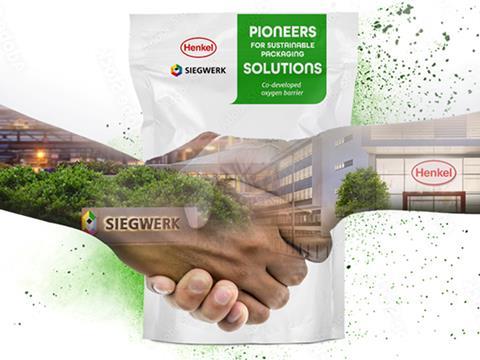 Recyclable Packaging (Pre-Commercialized) category
Recyclable yogurt FFS pack (CITEO - OLGA - Amcor - CEDAP - Plastiques VENTHENAT – SYNERLINK, France)
OneBARRIER FibreCycle recycle-ready high-barrier paper-based flexible packaging (Bobst, UPM & Michelman, Italy, UK, Luxemburg, Finland)
Bubble wrap made from 100% recycled paper (Papair, Germany)
Oxygen barrier coating for food packaging (Siegwerk & Henkel, Germany)
ZenCode WA Star NC ink designed to deink and be recycled with plastic bottles (Flint Group, Europe)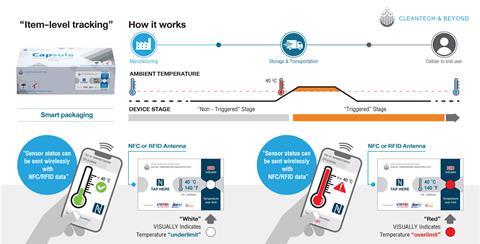 Active & Intelligent (Pre-Commercialized) category
Clamshell with modified humidity and controlled-release anti-spoilage (USDA-ARS, USA)
Digital Temperature indicator label, integrated with a passive RFID or NFC transponder (CleanTech and Beyond, Thailand)
Smart packaging for modified atmosphere of fresh produce (Wageningen University and Istanbul Technical University, Netherlands, Turkey)
Starch-based biopolymer as active and intelligent food packaging (National University of Malaysia and Tunku Abdul Rahman University of Management & Technology, Malaysia)
About the Sustainability Awards
The Sustainability Awards, organized by Packaging Europe, has a mission to illuminate the most important innovation and initiatives across the packaging value chain. Its aim is to help accelerate adoption of best practice and better technologies, and nurture cross-fertilization of ideas in order to support positive environmental impacts.
Open to all types of organizations with no entry fee, and judged by a diverse international jury of experts, it's the most prestigious and influential global competition for sustainability in packaging. Winners of the Sustainability Awards 2023 will be announced at the Sustainable Packaging Summit in Amsterdam on 14-15 November, 2023. More information can be found on the Sustainability Awards website.
If you liked this article, you might also enjoy:
McDonald's Director of Sustainability in Europe on the company's approach to packaging sustainability
McKinsey on whether or not on-pack sustainability claims affect consumer spending
Perspectives from industry-leading experts on the EU's Packaging and Packaging Waste Directive revisions
A deep dive into the most important packaging sustainability trends and solutions