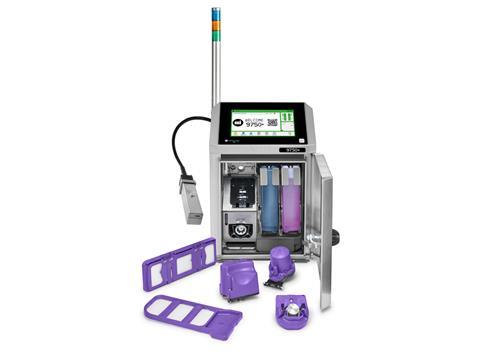 In the latest edition of the Spotlight, Markem-Imaje runs us through the merits of its 9750+ continuous inkjet printer. Apparently compatible with all continuous inkjet inks, it is said to enable the standardisation of printer models across customers' operations and offer both flexibility and sustainability benefits.
For manufacturers, achieving the critical balance between meeting sustainability objectives and maintaining business agility is a constant challenge. Solutions that address one problem can often create other issues.
For example, while adopting a new system or technology may answer the call for more environmentally friendly packaging, it may then create new challenges around costs, maintenance, or traceability.
So, how can companies solve this conundrum? By seeking out solutions that broaden rather than limit their choices, supporting both sustainability and business growth. A key example of this is Markem-Imaje's 9750+ continuous inkjet (CIJ) printer.
As a market-first hybrid coder, the 9750+ gives businesses the flexibility to print both standard dark codes or colour-contrasted codes by using dyes or pigmented inks. This is thanks to a revolutionary hybrid ink circuit capable of managing all types of CIJ inks.
The first of its kind for coding, it allows manufacturers to use the same printer model across factories, regardless of ink and packaging, providing the highest level of flexibility. However, the 9750+ also demonstrates that with a careful choice of solutions, sustainability and commercial flexibility do not have to be mutually exclusive.
Let's look at this in an example of a real-world setting. Companies that undertake both dye and pigmented contrast CIJ in their factories need standard dye inks for many of their applications. Yet they also require pigment inks to achieve a particularly long-lasting and crisp code, and/or where achieving the desired contrast can be challenging due to packaging colour, such as brown bottles.
Up until now, to code with both of these CIJ inks, companies have had to use two types of machines, with double the associated training and spare parts - and a cost to the environment.
Because the 9750+ printer takes both dye and pigmented inks, companies can now use one CIJ coder model everywhere across their fleet, regardless of the ink or packaging used.
This allows them to streamline their ink inventory and installed base management. But here's where innovation can play a critical role in solving that familiar industry conundrum: achieving the balance between sustainability targets and commercial priorities.
Alongside enhancing business flexibility, the 9750+ continuous inkjet printer also helps companies to reduce their environmental impact. The coder uses MEK-free inks to cut consumable use and also reduce volatile organic compound (VOCs) emissions by up to 50% as standard, and up to 60% in consumable-saving mode. It boosts sustainability even further by allowing the swapping out of individual parts, rather than entire ink circuit blocks, so that less equipment ends up in landfill.
Solutions with flexibility "built-in" have an important role to play in helping companies to work both more sustainably and more efficiently, because addressing increasingly urgent environmental responsibilities does not benefit from a 'one size fits all' approach.
Yet many companies are still having to contend with solutions that lack the capacity to adapt or scale up or down as and when required. This is despite the fact that flexibility is more vital than ever in a volatile business climate.
In order to successfully balance competing priorities, companies can benefit significantly from sustainability-focused solutions that won't impede production times or impact product quality and safety.
This means identifying new answers to key business challenges, so that businesses can respond more quickly to changing market demands, without compromising on sustainability.
Doing so will help them to simplify their progression towards more sustainable practices while allowing them to remain commercially competitive. Innovations like Markem-Imaje's 9750+ hybrid coder are proving that this can be achieved.
This content was sponsored by Markem-Imaje.